USB DRIVE GUARD
USB Drive Blocking by Serial Number
$499.00 One time Site License For ALL Computers
No yearly fees and Free Updates - Free Trial
USB Drive Guard is an easy to setup data leak prevention (DLP) computer security solution that enables network administrators to centrally control the use of USB drives on the network. This application runs silently on any windows PC and when someone inserts any type of storage device it will check a database on your network to see if its unique serial number has been authorized. If the device has not been preauthorized then the device will be ejected so the person can't use it. If it has been preauthorized the device can be used normally without any interuption.
Add another layer of security to your company computers by protecting your data & prevent users from bringing in viruses on their USB or CD/DVD storage drives.
Ejecting a drive doesn't mean it is physically removed and goes flying out of the computer. It means that Windows can no longer see, or use it. The drive will still be plugged into the USB port. This application does NOT turn off the ability for windows to use all USB devices like all the other software out there. USB Drive Guard allows you through a network database to manage USB drives by approving USB storage devices like thumb drives, external hard drives, etc, by serial number and when an approved drive is plugged into any computer running this software it will be allowed. If a drive was never approved then the drive will be ejected and the ejected drive will be logged to the database for you to review. Other USB devices like printers, mice, and keyboards are not affected in any way. Only devices that can read & write data.
Think about how easy it is for an employee, or anyone to walk into your business with a tiny USB thumb drive and insert it then extract any company documents and take it with them. Another issue is employees bringing in Smart Phones, MP3 players, or virus infested drives. You now have a way to block, or allow this type of access all from one easy to use administrator interface. If it has a drive letter then USB Drive Guard can remove it.
All storage drives have a unique serial number. USB Drive Guard reads this serial number then allows you to add the device to its Authorized list. Once authorized this device can be used on all your computers on the network that have this software installed. If you change the status of this drive, or if the drive was never added the drive will always be ejected and can't be used on any computer that you have installed the USB Drive Guard ejection client onto.
Features:
Only one fully automated administrator/server installation to perform on your server. NO server configurations to make. Then from this administrator application all you do is scan your network, right click on the workstation computers you want to deploy the ejection client to then select deploy and the client will install one by one on each selected pc, and that pc will be protected. No need to go to each PC to install.
Eject any type of USB storage device: Flash Drive, Smart Phones etc. If it gets a drive letter USB Drive Guard can block it.
Optionally disable (USB or internal) CD & DVD drives by computer name when disk is inserted.
Ejection is done by unique serial number, and not by turning off all USB ports. However you can optionally disable all USB's, or disable the ability to write to USB drives.
Easy to use Administrators interface to authorize drives and run reports.
All ejected drives are written to a log with Date, Time, PC Name, Windows User Name, Drive Label, I.P. Address, Drive Letter, and Device Serial Number.
All approved drives are also optionally logged each time they are used.
Ejection client runs as a service.
If the network connection is lost ALL USB drives are ejected no matter what unless you activate cache mode where approved drives are saved to the pc for offline use. Great for laptop users who take their laptops home after work.
If the device is inserted when the PC is powered off the drive will be ejected when powered on. This prevents someone from trying to circumvent USB Drive Guard.
Runs on all modern versions of Windows (32 or 64 Bit versions)
All features are controlled and managed from one Administration application that can be shared over your network from any computer. You never have to have to go to each computer to install. Install onto any networked pc right from the Administrator Server application with our push install technology.
Virus prevention and Data Protection through USB drive prevention and USB Management.
Works on Windows Domains, or Workgroups.
Screen Shots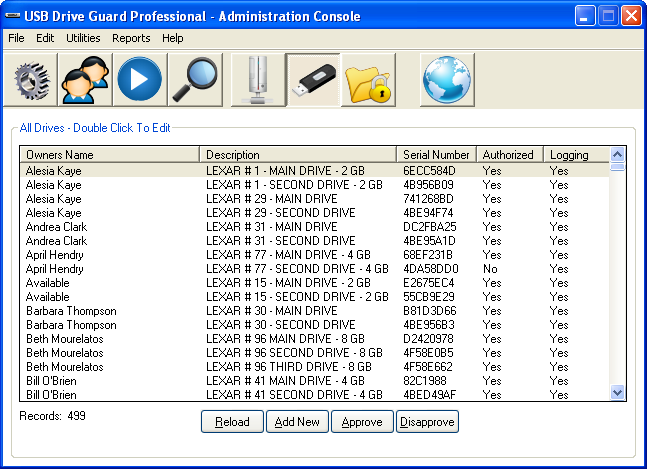 This is the main administrators window above.
You securely log in to USB Drive Guard - Default user name & password = admin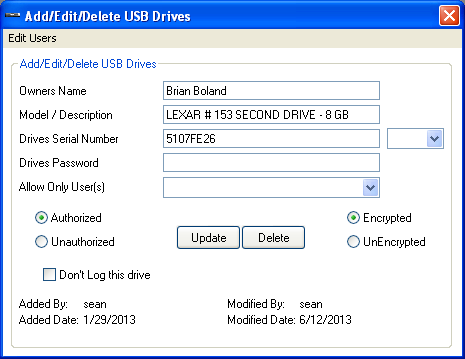 Use this window to Add or Edit a new drive. The password & Encrypted sections are optional.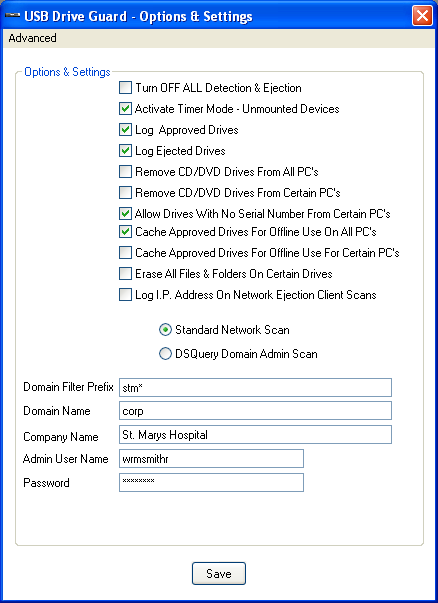 This window allows the administrator to make changes to how the ejection app runs on each computer on your network. This is all done from any computer running the Administrator application without any need to visit each pc.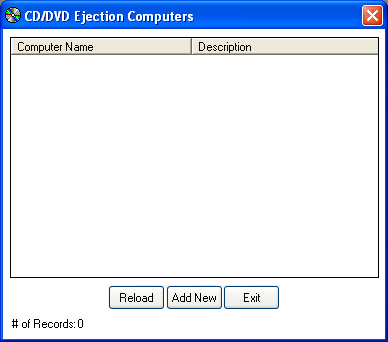 This window allows the administrator to add computers that should not be allowed to use the CD & DVD drives. Once added the user will not be allowed to run a CD or DVD on the computer.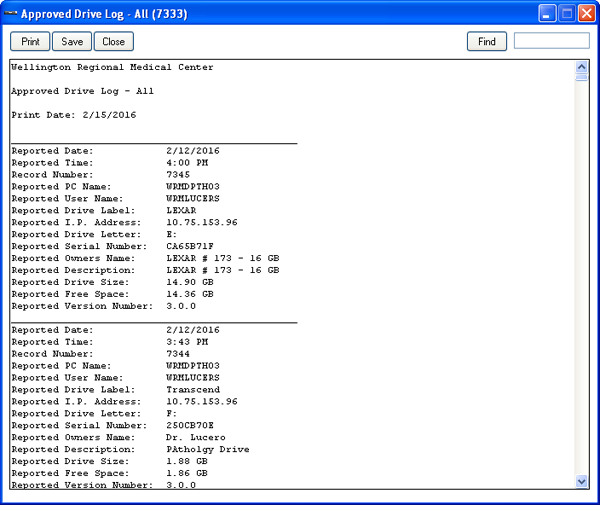 This is the log report of all the drives that were Approved. you can also search by PC name, I.P. address, and serial number. There is also a report for all ejected drives.