CODE ALERT - Mass Message Alert Software
$199.00 - One time Site License
Free Trial
Purchase One time Site License - Unlimited PC's
Code Alert is a mass communication application that allows you to create a custom alert messages that will pop up with a system tray message on all of your networked pc's. You create custom code alerts and locations then your PBX operator, or any user can within a few seconds create a custom message that all the Code Alert installed computers on your network will see. Perfect for creating Health Alert codes in hospitals, and other medical related organizations, but flexible for any type of business.
Easy to install on each computer on your network. Either manually, DSM or GPO.
Message pops up for three minutes with a one time ringing sound.
The pop up is on top of all other forms so its seen but can be closed by clicking any part of the yellow window.
Application runs on a timer and looks for any records no older than 3 minutes.
If the user closes the window it reappears when the timer fires again.
If the window is open when the three minutes expire the window will self close.
Multiple alerts can be displayed at the same time.
One time site license fee. Install on hundreds of workstations.
Free updates to licensed users.
Keep sensitive information off your overhead paging system.
Minimize behavioral health hospital disruptions.
Discreetly notify staff of surprise ACHA inspections.
Runs in the background WITHOUT slowing the pc down.
Perfect for hospitals of all types.
Administrator Console Application default User Name and Password are both "admin"
Below is an example of what the Code Alert client application looks like when an alert is created with the Administrator application.

Below is the Code Alert Administrator window where your PBX operator can create a new Code Alert. It only takes a few seconds for a user to create a new alert. Any networked pc can create an alert.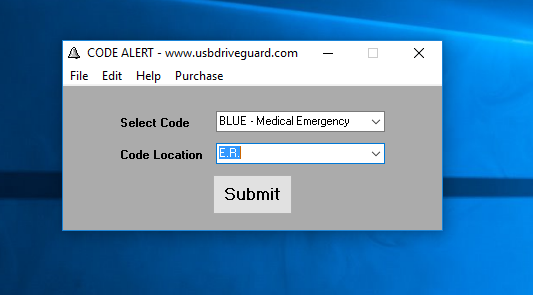 After clicking the Submit button on the administrator application the user will be asked if they would like to create a custom message. This is where you can enter a room number or a more detailed message that will appear on each computer that you installed the client application on.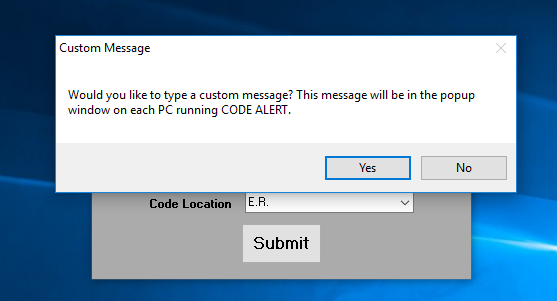 Enter the message and click OK and your done.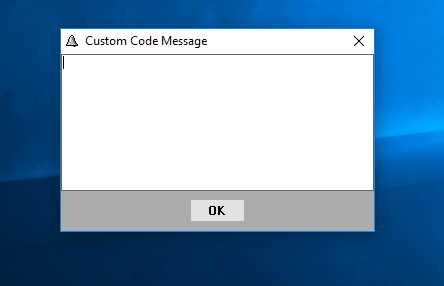 Below is what each networked computer sees.